About AUUG
AUUG Classic is AUUG's old web site. It has not been maintained since early 21st century, and details are out of date. It is available for historical interest only.
Registration for AUUG 2005 is now open!
Early bird discount extended to 30 September
AUUG 2005, The Conference for Unix, Linux and Open Source Professionals, will be held at the Carlton Crest Hotel, Sydney, on 19-21 October. Tuturials will be held on 16-18 October.
You can now register for AUUG 2005 by either downloading the printed registration form or completing an online registration.
Register before 30 September for the early bird discount.
---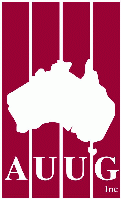 AUUG Incorporated
The Organisation for Unix, Linux and Open Source professionals
AUUG's role is building a community by connecting, supporting and promoting people with an interest in interoperable computing - which we see as a key to achieving fitness for purpose and value for money in Information and Communication Technology.
Our members are professionals who care about
Unix operating systems from proprietary vendors
Linux, BSD and other Open Source operating systems
Open standards, specifically those which enable the free and unrestricted interchange of information
Open Source applications, regardless of the platform they run on
other cool technical stuff
---
More information about AUUG
Contact AUUG
---
For information on membership benefits and how to join AUUG, click here.
Register for free to get updates on AUUG activities.
---
AUUG Incorporated gratefully acknowledges the support of its corporate sponsors:
Please contact AUUG to discuss sponsorship opportunities.
---
---
NEWS: