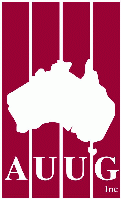 Send Mail to AUUG

This form may be used to contact AUUG National, or any of its chapters. Please complete the form below. When you're finished, select Send Mail at the bottom of this page. To blank out your message, select Clear Form.
Please make sure you have entered your email address.
Without it, we do not know who has sent the email, and it will be filed in the bit-bucket. Thanks.
---
---
---
webmaster@auug.org.au / Last updated: