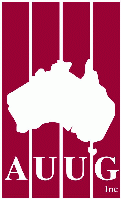 AUUG's Road Shows

AUUG runs Road Show tutorials from time to time - usually two or three times a year.
A Road Show consists of an expert in some area of computing travelling to a set of Australian capital cities and presenting one or two tutorials at each location. Road Shows are staged primarily as a benefit to AUUG Members, although non-members are permitted to attend.
If you have an idea for an interesting Road Show topic, or there is some speaker you would particularly like to see, please send your suggestion to the AUUG Management Committee <auugexec@auug.org.au>
For more information contact the secretariat by email at auugbiz@auug.org.au, or by phone on 1800 625 655 or (02) 8824 9511.
---
AUUG Home | Site Map | Email comment
---
webmaster@auug.org.au / Last updated: